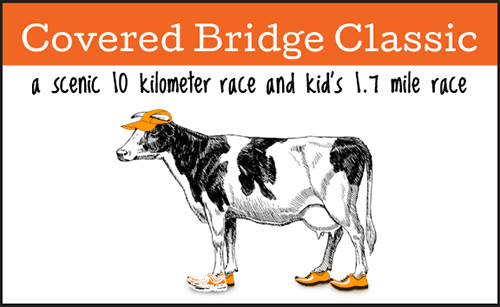 This Year's Race Scheduled for Sunday, October 3, 2021
Both the 10K and 1.7-mile kids' race start at 10:00 am. Course descriptions are below.

Entry Fees: 10K Race $20, Kid's 1.7 Mile Race $7 (for those under 14).
Prizes: Merchandise prizes for adults in 8 divisions. Handmade medals for kids (and adults who want them).
Pre-registration:
Register online at Runreg.com.
Register by mail before Sept 20th. Pick up an application at Baker's Country Store in Conway or Pekarski's Sausage in South Deerfield, or download the form print and mail it in.
Register on race day: Field Memorial Library starting around 8:30 and ending at 9:40.
Parking: Turn north off 116 at Elm street. Parking is on the left, Watch for signs.
Routes: Both the 10 K Race and the Kid's 1.7 Mile Race begin at Conway's historic Burkeville Covered Bridge, just west of the town center. Registration and the finish line are at the Field Memorial Library in the town center. Plan to complete your registration at least 20 minutes before the start of the race to leave time to comfortably travel the one mile to the starting line.
All racers begin at the covered bridge and briefly head east along Route 116. They turn up Ives Road, turn onto Delabarre Avenue and over Baptist Hill, heading down Cemetery Hill Road, and crossing the South River onto Reed's Bridge. After crossing the bridge, the kid's mile race turns right onto Elm Street and proceeds to the finish line at the Field Memorial Library. After crossing the bridge, 10 K racers turn left and head north on Reed's Bridge Road through hilly terrain, loop nover the Truce Road hill and rejoin Reed's Bridge Road, then follow Elm Street to the finish line at Field Memorial Library. Much of the route along Reed's Bridge Road is a scenic unpaved gravel road.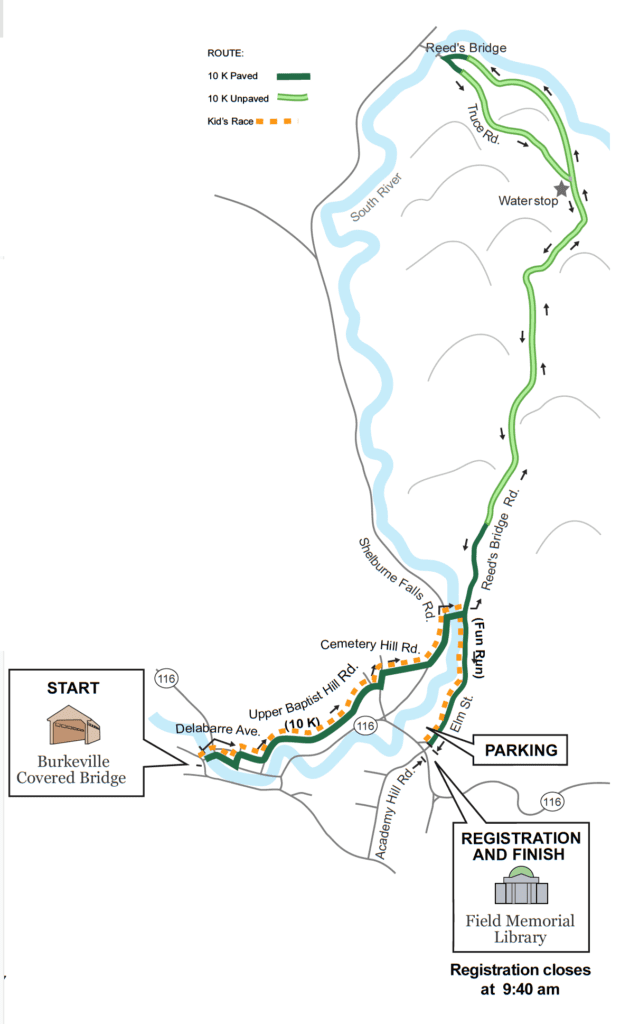 ---
All proceeds benefit the Festival of the Hills Scholarship Fund.
Boyden Brothers Maple Products
Rte. 116, Conway, (413) 369-4665
Marathon Sports
28 Pleasant St, Northampton, (413) 517-0059

Pekarski's New England Farm Made Sausage
Rte. 116, Conway Rd., S. Deerfield (413) 665-4537

South River Miso
Shelburne Falls Rd., Conway, (413) 369-4057
The Forgotten Orchards French Traditional Sweet Apple Cider
100% Apple juice, nothing added but love.
Conway, MA 01341, P.O Box 113.
Alexandre Pazmandy, LMT, CPMT
Therapeutic MassageOn site and in office,
4 B Liberty St. Easthampton, (413) 362-5173, ap@massagetherapy.com